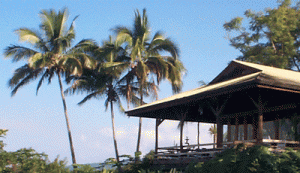 Experience real Hawaii away from the city and nestled in Kona Coffee country. Wake up to gentle trade winds, birds singing and 100% Kona coffee grown on our farm. Stay in your own secluded tree top apartment. Relax on your lanai or swim in the ocean with dolphins and sea turtles. We are located just 15 miles south of sunny Kailua-Kona on the Big Island of Hawaii, only minutes from one of the world's best snorkel and shore dive sites, Pu'uhonua o Honaunau, the Place of Refuge.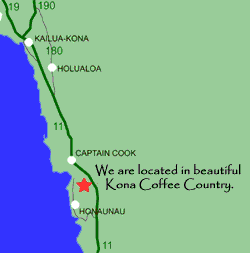 Hawaiian Style Vacation Rentals are on the sunny side of the Big Island of Hawaii. We are in Kona Coffee country where the world famous Kona coffee is grown. We grow and process our own Kona coffee. We are located more than 1/4 mile off the highway. Our 7.5 acre farm is on the makai (ocean side) of the highway and is at a comfortable 1000 foot elevation. Although we are not within walking distance to the beach from our farm, a wonderful snorkeling and scuba diving beach, the Place of Refuge, is just a short car ride away. We have beautiful views of the ocean and coastline as well as majestic views of the mountains. Staying with us will give you the experience of the real Hawaii. Your vacation rental is nestled among coffee orchards and natural lava formations. Our farm is overflowing with fruit trees, ornamental plants, flowers and wildlife. Being just south of Kailua-Kona makes our farm a great base from which to explore the Kona coast as well as Volcanoes National Park and the town of Hilo.
Please feel free to contact us with any questions.
HawaiianStyle@killino.com
Owned and Operated by Todd and Kimberly Killino
Killino LLC
Mailing Address: Todd and Kimberly Killino PO Box 651 Captain Cook, HI 96704