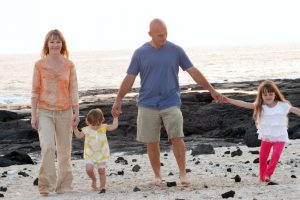 Originally from Nazareth, Pennsylvania, we moved to the Big Island to live our dream of owning a coffee farm and vacation rental. We first visited Hawaii while on our honeymoon in 1999. Like most people, we fell in love with the islands and dreamed of living in paradise. Some of our best times together were spent turning our backyard in Quakertown into a minature Hawaii. Each year we saved our money and all of our vacation time to travel back to Hawaii. We were able to seriously plan our move once I was able to secure approval from my employer to work remotely as a contract computer programmer.

The next hurdle was finding a place to live that we could afford. For two of our visits to the Big Island, we stayed at the farm which was then known as Arja Farm. It was our ideal home in Hawaii. We could farm coffee and mac nuts and run a vacation rental. When we came to the Big Island in August of 2004 to find a place to live, we naturally booked the main house. We hoped to find a house to rent, but would have been happy with a condo that had a lanai for us to spend time outside. We were so excited when the owner told us he was looking to sell the farm. It wasn't easy making the decision to leave our family, home and jobs, but this was an opportunity that we couldn't miss. We arrived back in Pennsylvania in mid September, sold our house, sold or gave away most of our belongings and we quit our jobs. We shipped some clothes, tools and our car. On November 2, we boarded a plane home to Hawaii.

It is a dream to be able to live in Hawaii. We truly feel blessed. It is through the love, support and understanding of our family that we had the guts to embark on this adventure.

We thought moving to Hawaii was life changing. Now that we have a two daughters, we know better. Josephine and Jocelyn have brought a love to our lives that we did not know was possible.
Please send us an email if you would like more information about the Hawaiian Style Vacation Rentals at Killino Farms or if you would just like to say Aloha.