Killino Farms 100% Kona Coffee – Our Family Farm to Your Cup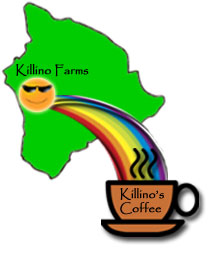 We have 100% Kona Coffee available for sale. The coffee is grown on our farm, hand picked, dryed in the Hawaiian sun and roasted fresh for your order. The coffee is roasted medium-dark which is known as the Kona roast. The Kona roast is the ideal roast for Kona coffee. However, if you prefer a different roast, please specify your preference in the comments. All of our coffee is packaged as whole bean.
The coffee is available in 1 pound and 1/2 pound bags. The price for 1 pound is $30. The price for a 1/2 pound is $15.
The shipping cost is extra and depends upon the method of shipment and the weight of the order. We ship US Priority Mail. Buyer must pay for the shipping cost. We accept pay pal, personal checks and money orders.
Because we want you to have the freshest coffee possible, we do not roast the coffee until you place an order. Please fill out the form below if you would like to buy coffee. We will contact you via email to confirm your order prior to shipment.