Killino Farms Hawaiian Macadamia Nuts
Fresh Hawaiian macadamia nuts are delicious. Our macadamia nuts are grown, picked and packed on our farm. We sell raw in the shell nuts. The nuts are a nutritious addition to your diet. In our ever increasingly busy world filled with fast food and heavily processed foods, for our health and the health of our planet, it is critical to come back to whole real food. Our nuts are in nature's packaging, their shells! To crack the nut with the hardest shell, purchase one of our nutcrackers.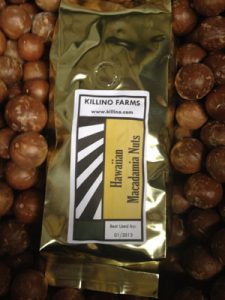 Macadamia nuts have a sweet taste when enjoyed raw. Another way to savor the taste of macadamia nuts is to slow roast them at a low temperature. The nuts can be used in any recipe calling for nuts. They are terrific in baked goods as well as in savory dishes like a crunchy coating on fish, chicken or tofu. If you like peanut butter or almond butter, you should try macadamia nut butter. Macadamia nut butter turns a smoothie into a creamy treat. Speaking of creamy treat, swirl slightly warmed macadamia nut butter on to the top of vanilla bean ice cream for one of the best simple desserts.
We sell 1 and 2 pound bags of macadamia nuts.
One pound bags are $7.
Two pound bags are $14.
We will work with you on any custom order, just note the specifics in the form comments or feel free to send us an email. The shipping cost depends upon the method of shipment. We ship US Priority Mail. Buyer must pay for the shipping cost. We accept pay pal, personal checks and money orders.
Please fill out the form below. We will contact you via email to confirm your order prior to shipment.