Macadamia Nut Cracker
TJ's nutcracker from Australia is the highest quality nutcracker specifically designed to crack macadamia nuts, but will crack any nut that fits within the jaws. Macadamia nuts have the hardest shell of all nuts. It takes 300 pounds of pressure per square inch to crack the shell, but the reward is well worth the effort. Fresh macadamia nuts are delicious.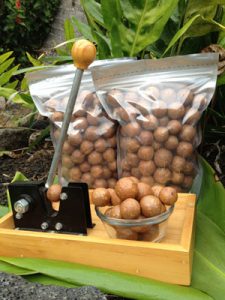 To use the cracker, flip the handle to open the jaws, rest a nut in the jaws and slowly flip the handle closed to crack the nut. It is an easy one handed operation powered by leverage. The clear lacquered solid pine tray keeps nuts from rolling away as well as provides a location to place nut kernels. The pine base has solid silicon feet to protect your counter or table. The cracking mechanism is heavy duty painted steel. The handle is stainless steel with a solid pine knob. This beautiful cracker will last a lifetime.
Approximate Dimensions:
length: 10.5 inches
width: 6.5 inches
height tray only: 1.5 inches
height with cracking mechanism: 3.5 inches
The cracker is $99 plus shipping and handling. The shipping cost depends upon the method of shipment. We ship US Priority Mail. Buyer must pay for the shipping cost. We accept pay pal, personal checks and money orders.
Please fill out the form below. We will contact you via email to confirm your order prior to shipment.
If you have any questions, please feel free to send us an email.
farm@killino.com